Welcome to the Miles City Airport!
Our airport proudly serves eastern Montana through Miles City – a Legendary Western Town. You might have heard of western hospitality. The staff at Miles City Airport delivers a healthy dose of western hospitality to our travelers every day. Whether you're from the area or stopping through, we are here to assist with all of your aviation needs.  You can follow the links to find the services you need, or keep reading to learn why Miles City is such a unique western town.
About Miles City, Montana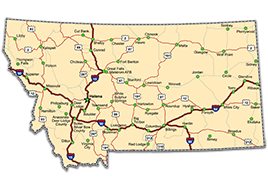 Founded in 1876, Miles City is a place rich in history. From the settlement of early explorers and frontiersmen to soldiers and ranchers, all have played a part in shaping Miles City into the historical and cultural hub that it is. Situated at the intersection of the Yellowstone and Tongue Rivers, the area was well known to Indian tribes, fur traders, and explorers.
Today, Miles City is proud of its parks, rivers and historical sites.  These sites provide recreational fun and adventure for residents and visitors alike. Home to the world famous Bucking Horse Sale, fly into the Miles City Airport and visit us to discover why this truly is a Legendary Western Town.